We recently got a call from someone with roof problems. They had their house re-roofed by one of our competitors four years ago. Ever since then they had been noticing a couple of serious leaks. One of the leaks was running down through an exterior wall and into the basement.
We agreed to take a look. When we got there, the homeowner pointed out the location of the leaks and we went on the roof to do an inspection. We noticed a few things that looked improper and could be causing the leaks. We offered to tear apart those areas, find the problem, and fix it.
The most serious leak was in this area.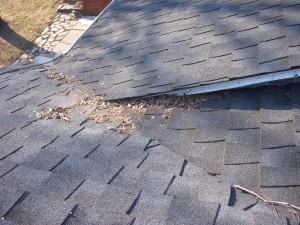 We tore the shingles off and found wet, rotten sheathing in the area where the valley runs into the rake edge. It looked like our competitors had replaced one small piece of plywood which was now rotten again. There was also some of the original sheathing which rotted. We removed the rotten plywood and found something we had never seen before.
The previous roofers must not have been too confident in their ability to install a watertight roof in this area, so they came up with an ingenious plan. They cut a piece of ice guard to fit inside the attic below the problem roof area. The ice guard was placed so that when the roof leaked the water would run down the ice guard and drain out through the soffit.
Unfortunately, their plan didn't work. The water ran down through the wall and into the basement. The homeowner hired a roofer and got a piece of ice guard in their attic.
We replaced the rotten wood and fit 60 mil EPDM over the problem area. We then re-installed the shingles and properly flashed the wall. We're confident they won't need ice guard in the attic anymore!
We posted this story to demonstrate what can happen if you hire the wrong roofing contractor. Anyone can nail down shingles, but it takes a skilled and experienced roofer to protect your home from water damage.
This article was written by Jamie Heinrichs