There are several components to a durable roof system. To begin, a roof needs a suitable roof deck. A roof deck is a structural material that your roof will be attached to. On newer homes, this is usually plywood and on older homes, it is often dimensional lumber, such as 1" x 8" s. The contractor should examine the roof deck before installing your new roof. They should ensure that the deck is fastened sufficiently to the framing members and look for rot or warping caused by moisture damage. If your roof has dimensional lumber that is gapped or uneven, it will be necessary to install plywood over the dimensional lumber before installing your new roof.
For shingled roofs, we use the Integrity Roof System™ by CertainTeed.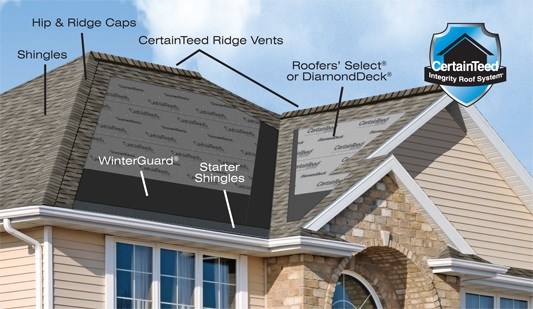 The first product applied to a roof deck is WinterGuard®. This is a self-adhering underlayment that prevents moisture from getting to the roof deck. WinterGuard® is usually applied at the eaves, in the valleys, and around any protrusions on your roof. This product is a secondary waterproof barrier used in areas where it would be possible for water to back up under the shingles.
Next, RoofRunner™ synthetic underlayment is installed on the roof deck. This underlayment covers the roof deck where WinterGuard® does not. This product is in place of the asphalt-based felt that we used in the past. Synthetic underlayment is lighter (easier to work with), doesn't tear as easy and won't wrinkle when exposed to moisture.
SwiftStart® starter shingles are then applied along the eave. These shingles provide double coverage for the bottom row and provide an extra seal strip for the bottom row of shingles.
The next step is to install the shingles. If there are any protrusions, such as a chimney or skylights they must be surrounded in flashing to prevent leaks. When a sewer pipe is encountered while installing shingles a pipe flashing will need to be put in place. These pipe flashings can be made of metal or plastic and serve the same purpose as flashings for protrusions.
Finally, a ridge vent is installed. The ridge vent is a ventilation system installed at the ridge of a roof. Ridge vent works in concert with vented soffit to circulate air through your attic. It keeps your attic cooler in the summer and removes moist air in the winter. This makes your home more energy-efficient and reduces the risk of mold or mildew forming in your attic. The ridge vent is then covered with special ridge shingles to ensure extra protection to the ridge and be aesthetically pleasing.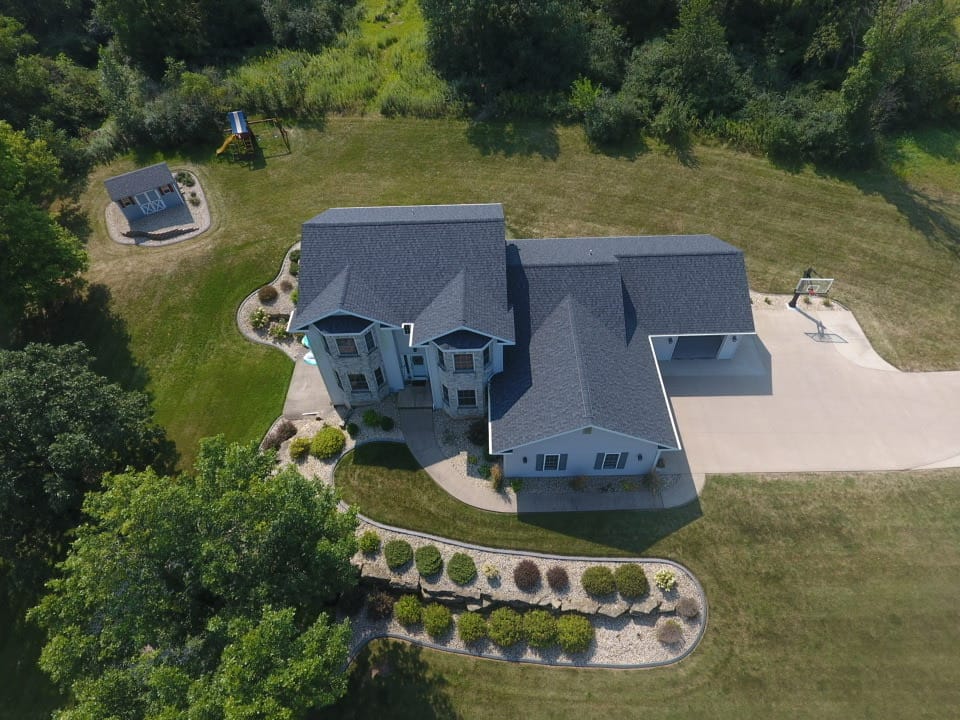 All these components contribute to a durable, long-lasting roof. At Heinrichs Roofing & Siding we strive to inform our customers about the quality products we use.